Osborn, Missouri A Community With Pride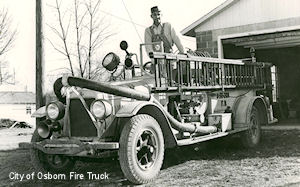 Keith Wolfe is the man standing in the fire truck.
Many towns that came into being as a result of the building of the railroads received names of persons who in one way or another were associated with the enterprise. Osborn was no exception. The town received its name complimenting Col. Wm. Osborn of Waterville, New York, a partner of the firm, John Duff and Co. that had received the contract to build the Hannibal & St. Joe Railroad. Henry Baker, construction engineer in the Western Division of the Railroad and J.T.K. Hayward, with Duff and Osborn, as land agents for the railroad, laid out the town registering the plat in the counties of Dekalb and Clinton in July 1858. The plat of the original town consisted of 84 blocks, of which 36 blocks were located in Clinton County.
The town was first incorporated August 4, 1887 and included only that part of the town of the original plat that lay in Dekalb County. The Court of Dekalb County authorized the incorporation of the Village of Osborn. There followed a second incorporation May 5, 1897, enlarging the city limits of the part located in Dekalb County. The first Picnic of record held in the City Park, of which there have been many, was August 14, 1902.