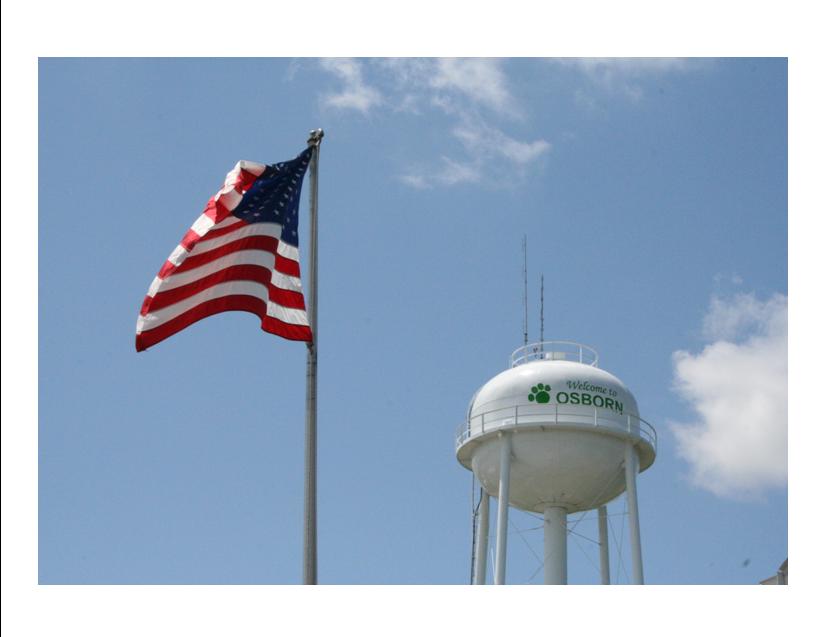 Osborn Welcomes You
Osborn, MO, population 423, is located in Northwest Missouri 25 miles east of St. Joseph and 8 miles west of Cameron just south of Highway 36. Osborn is home of the Wildcats.
---
PUBLIC NOTICE
CITY OF OSBORN PUBLIC NOTICE TO ALL OCCUPANTS AND RESIDENTS:
The City of Osborn will be conducting leak testing in the sanitary sewer system by blowing smoke into the sewer lines. This smoke will reveal sources of sewer odors in your neighborhood as well as the locations where storm water and other sources of surface waters are entering the sanitary sewer systems.
A special non-toxic smoke will be used in these tests. This smoke is manufactured for this purpose, leaves no residuals or stains and has no effects on plant and animal life. The smoke has a distinctive, but not unpleasant odor. The visibility and odor from the smoke only lasts a few minutes were there is adequate ventilation.
Because the plumbing appliances in your home or building are connected to the sanitary sewer system, some of this smoke may enter your home if one of the following exists:
1. The vents that are connected to your building's sewer pipes are inadequate, defective, or are improperly installed.
2. The traps, under sinks, tubs, basins, showers, or are other drains are dry, defective, improperly installed, or missing.
3. The pipes, connections and seals of the wastewater drains in or under your building are damaged, defective, have missing plugs, or are improperly installed.

All residents are advised that if, traces of this smoke or the odor enters the building, it is an indication that sewer gases and odors may also enter the home or building. Thesecan be both unpleasant and dangerous as well as a health hazard to the occupants. The correcting of these problems should be done in an urgent manner.
While the City of Osborn will render all possible cooperation, the correction of these defects on private property is the responsibility of the property owner. The services of a professional plumber, is many times required.
If you have any questions, please contact the City Hall during regular business hours.
THE TESTING WILL BEGIN ON TUESDAY, OCTOBER 21, 2014 AND END ON FRIDAY OCTOBER 24, 2014.
---
NOTICE OF BOARD MEETING -
Wednesday, November 12, 2014
AT 7:00P.M. AT CITY HALL
POSTED October 14, 2014
---
CITY HALL WILL BE
CLOSED
MONDAY OCTOBER 27, 2014
TUESDAY OCTOBER 28, 2014
& WEDNESDAY OCTOBER 29, 2014
POSTED October 14, 2014

---
City Hall Quick Info
Contact: Office: 816-675-2239
FAX: 816-675-2239
Clerk@cityofosborn.com

Address:
151 W. Georgie
P.O. Box 67
Osborn, MO 64474

Hours of Operation:
Monday 7:30 A.M. - 3:00 P.M.
Tuesday 7:30 A.M. - 3:00 P.M.
Wednesday 7:30A.M-6:00P.M.
Thursday 7:30 A.M. - 3:00 P.M.
Friday -CLOSED

Closed: Saturday & Sunday

NOTARY SERVICES NOW OFFERED AT CITY HALL
Important Numbers for
New Residents
Emergency - 911

Water/Sewer Service
City Hall – 816-675-2239

Trash Service for
Residential
City Hall 816-675-2239
Trash Service for
Businesses
Defenbaugh- 800-631-3301
R&W Container - 816-632-3590
Veolia - 800-778-7652
Electric Service
Ameren UE – 800-552-7583

Natural Gas Service
Missouri Gas Energy – 800-582-0000

Telephone Service
CenturyLink- 800-201-4099

COUNTY WEBSITES
Clinton County MO: http://clintoncomo.org/government/
Dekalb County MO: http://dekalbcountymo.org/