Osborn Welcomes You

"MAKE SURE YOU CHECK OUT THE COMMUNITY NEWS/EVENTS TAB FOR UPCOMING EVENTS IN OSBORN."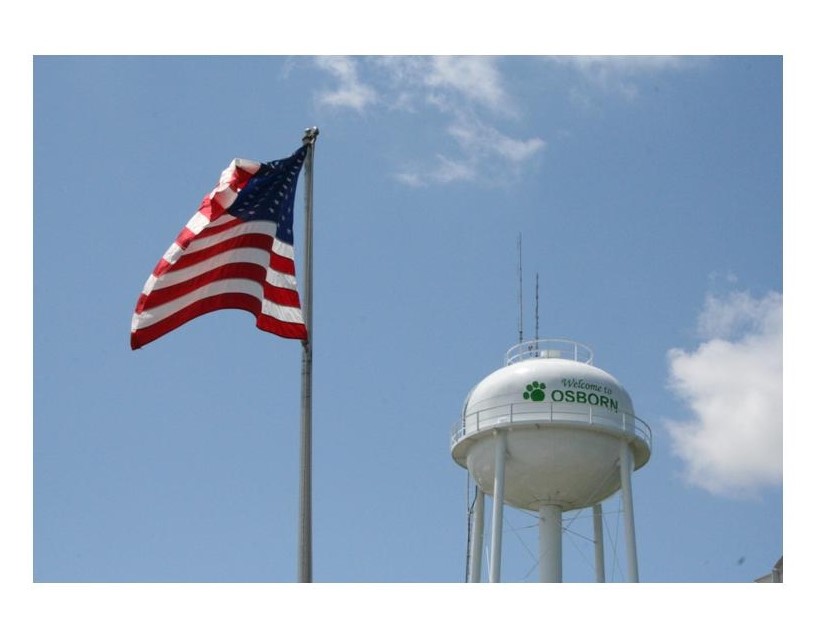 Osborn, MO, population 455, is located in Northwest Missouri 25 miles east of St. Joseph and 8 miles west of Cameron just south of Highway 36. Osborn is home of the Wildcats.
---
July 26, 2018
VOLUNTARY WATER CONSERVATION
THE CITY OF OSBORN HAS IMPLEMENTED EMERGENCY RESTRICTIONS TO RESTRICT WATER USE PER ORDINANCE 2012-03 DUE TO THE HOT AND DRY WEATHER CONDITIONS.
This is "voluntary" but the City is asking our customers for help by not refilling swimming pools, no washing vehicles, boats, trailers, etc., no water to be used for dust control, no washing sidewalks, driveways, parking areas and no watering lawns, trees, landscaped areas, shrubs, gardens and plants.
DELIBERATE VIOLATERS WILL BE SUBJECT TO FINES.
If you have any questions, please feel free to contact City Hall at 816-675-2239.
---
NOTICE OF TAX RATE HEARING
A public hearing will be held on Wednesday, August 29, 2018 at 6:00 P.M. at which time citizens may be heard on the property tax rates proposed to be set by the City of Osborn, Missouri, a political subdivision.
ASSESSED VALUATION CURRENT TAX YEAR PRIOR TAX YEAR
(BY CATEGORIES) 2018 2017
REAL ESTATE – Residential $ 1,962,016 $ 1,956,536
REAL ESTATE – Agricultural $ 29,716 $ 29,836
REAL ESTATE – Commercial $ 371,632 $ 372,286
PERSONAL PROPERTY $ 901,335 $ 945,870
LOCAL ASSESSED $ 0 $ 0
STATE ASSESSED – Commercial $ 246,719 $ 278,008
STATE ASSESSED – Personal Prop $ 20,365 $ 36,405
TOTAL $ 3,531,783 $ 3,618,941
NEW CONSTRUCTION AND IMPROVEMENTS
REAL ESTATE $ 10 $__________ 0
Jody Barlow, City Clerk
POSTED August 9, 2018
---
BURN BAN NOTICE:
BURN BAN IS IN EFFECT IN BOTH CLINTON AND DEKALB COUNTIES. THIS BAN INCLUDES ALL OF OSBORN, MO.
BOTH COUNTY BURN BANS ARE EFFECTIVE IMMEDIATELY AND REMAIN IN EFFECT UNTIL FURTHER NOTICE.
POSTED JULY 16, 2018
---
2017 ANNUAL WATER QUALITY REPORT
The current CCR is available at dnr.mo.gov/ccr/MO1010609.pdf
Call 816-675-2239 for a paper copy.
---
Notice of Board Meeting
Wednesday, September 12, 2018 @ 6:00 P.M. at City Hall.
POSTED August 9, 2018
---
Attention: City of Osborn Residents
The City of Osborn has adopted Ordinance #2017-02 that will allow you to legally drive All-terrain Vehicles (ATV's), Utility Vehicles and Golf Carts on city streets. This ordinance applies to any person who wants to legally drive their ATV, UTV, and/or Golf Cart on the city streets.
Starting August 1, 2017, the City will issue permits that will be good for one year. You will need to stop by City Hall and fill out an application, provide required documentation and pay the $15.00 fee. Once you are issued a permit, you will need to affix it to your ATV, UTV, and/or Golf Cart.
If you are found to be in violation of this ordinance you will be issued a citation to appear in court and you will be subject to a fine not to exceed $500.00.
If you have any questions please don't hesitate to call me.
Please click Ordinance #2017-02 for the full ordinance.
City Hall Quick Info
Contact:
OFFICE: 816-675-2239
FAX: 816-675-2239
EMAIL: Clerk@cityofosborn.com

Address:
151 W. Georgie St.
P.O. Box 67
Osborn, MO 64474

Hours of Operation:
Mon. 7:00 A.M.-3:30 P.M.
Tues. 7:00 A.M.-3:30 P.M.
Wed. 7:00A.M.-6:00P.M.
Thurs. 7:00 A.M.-3:30 P.M.
CLOSED:
Friday, Saturday & Sunday

ACH Enrollment
Click here for paperwork to enroll
in ACH payments for your
water/sewer payment.
Important Numbers for New Residents
Emergency - 911

Water/Sewer Service
City Hall – 816-675-2239

Trash Service for Residential
City Hall 816-675-2239
Trash Service for Businesses
Defenbaugh- 800-631-3301
R&W Container - 816-632-3590
Veolia - 800-778-7652
Electric Service
Ameren UE – 800-552-7583

Natural Gas Service
Missouri Gas Energy – 800-582-1234

Telephone Service
CenturyLink- 800-201-4099
CenturyLink Internet and Phone Service
---
COUNTY WEBSITES
Clinton County MO: http://clintoncomo.org/government/
Dekalb County MO:
https://www.dekalbcountymo.com/
---
City of Osborn
employment application.
EOE