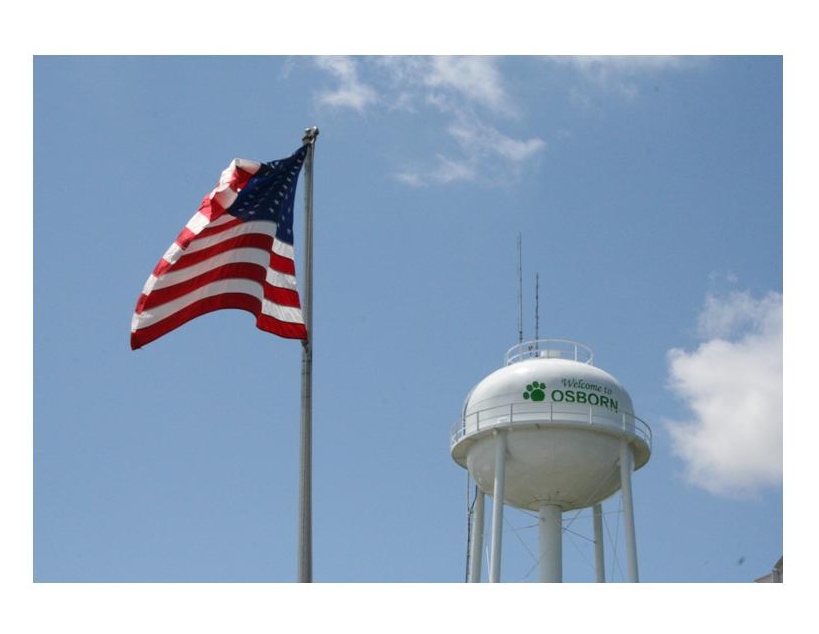 Osborn Welcomes You
Osborn, MO, population 455, is located in Northwest Missouri 25 miles east of St. Joseph and 8 miles west of Cameron just south of Highway 36. Osborn is home of the Wildcats.
---
2017 ANNUAL WATER QUALITY REPORT
The current CCR is available at dnr.mo.gov/ccr/MO1010609.pdf
Call 816-675-2239 for a paper copy.
---
Notice of Board Meeting
Wednesday, June 20, 2018 @ 6:00 P.M. at City Hall.
POSTED June 18, 2018
---
CITY HALL WILL BE
CLOSED
JULY 4 - 5, 2018.
POSTED JUNE 18, 2018
---
Quick update on the project in DeKalb County on U.S. Route 36 near Osborn:
Work continues on U.S. Route 36 near Osborn. As part of that work, the Route 33 North intersection at U.S. Route 36 is closed for reconstruction of the intersection.
It closed May 30 and will remain closed around the clock. Crews anticipate reopening it the evening of June 8.
Once the intersection reopens, traffic will once again be restricted to right turns only at the Route 33 North/Route M intersection and access across U.S. Route 36 will remain closed. This traffic pattern will remain in place for the remainder of the project, which should be complete in early July.
Throughout the project, U.S. Route 36 will remain open, but reduced to one lane each direction.
As always, if you have any questions or concerns, please do not hesitate to contact me directly.
MARCIA JOHNSON
Senior Communications Specialist
Missouri Department of Transportation
Northwest District – Communications
3602 North Belt Highway, St. Joseph, MO 64506
816-387-2495 (office)
816-387-7327 (mobile)
---
Dear Citizens, April 26, 2018
The City of Osborn Utilities is going to start offering residential customers a sewer credit for outside watering of gardens and yards.
To be eligible for this credit, you must purchase a separate meter from the City. The sewer credit will be applied annually in November for water that passed through a separate meter, that is attached to your outside faucet, during the months of May through September.
Please stop by City Hall to purchase your meter and sign up.
If you have any questions, please feel free to contact City Hall at 816-675-2239.
---
Attention: City of Osborn Residents
The City of Osborn has adopted Ordinance #2017-02 that will allow you to legally drive All-terrain Vehicles (ATV's), Utility Vehicles and Golf Carts on city streets. This ordinance applies to any person who wants to legally drive their ATV, UTV, and/or Golf Cart on the city streets.
Starting August 1, 2017, the City will issue permits that will be good for one year. You will need to stop by City Hall and fill out an application, provide required documentation and pay the $15.00 fee. Once you are issued a permit, you will need to affix it to your ATV, UTV, and/or Golf Cart.
If you are found to be in violation of this ordinance you will be issued a citation to appear in court and you will be subject to a fine not to exceed $500.00.
If you have any questions please don't hesitate to call me.
Please click Ordinance #2017-02 for the full ordinance.
City Hall Quick Info
Contact:
OFFICE: 816-675-2239
FAX: 816-675-2239
EMAIL: Clerk@cityofosborn.com

Address:
151 W. Georgie St.
P.O. Box 67
Osborn, MO 64474

Hours of Operation:
Mon. 7:00 A.M.-3:30 P.M.
Tues. 7:00 A.M.-3:30 P.M.
Wed. 7:00A.M.-6:00P.M.
Thurs. 7:00 A.M.-3:30 P.M.
CLOSED:
Friday, Saturday & Sunday

ACH Enrollment
Click here for paperwork to enroll
in ACH payments for your
water/sewer payment.
Important Numbers for New Residents
Emergency - 911

Water/Sewer Service
City Hall – 816-675-2239

Trash Service for Residential
City Hall 816-675-2239
Trash Service for Businesses
Defenbaugh- 800-631-3301
R&W Container - 816-632-3590
Veolia - 800-778-7652
Electric Service
Ameren UE – 800-552-7583

Natural Gas Service
Missouri Gas Energy – 800-582-1234

Telephone Service
CenturyLink- 800-201-4099
CenturyLink Internet and Phone Service
---
COUNTY WEBSITES
Clinton County MO: http://clintoncomo.org/government/
Dekalb County MO:
https://www.dekalbcountymo.com/
---
City of Osborn
employment application.
EOE