Osborn Welcomes You
ATTENTION RESIDENTS:
The time to sign up for United Fiber Internet is now! United Fiber is now taking sign-ups for Osborn Residents living inside the City limits of Osborn. There are a few ways that you can get signed up.
Call United Fiber directly at 800-585-6454, or go to www.unitedfiber.com or stop by Outlaw's Cafe or City Hall for an application. If you have any questions or want to learn more contact United Fiber
at 800-585-6454 today!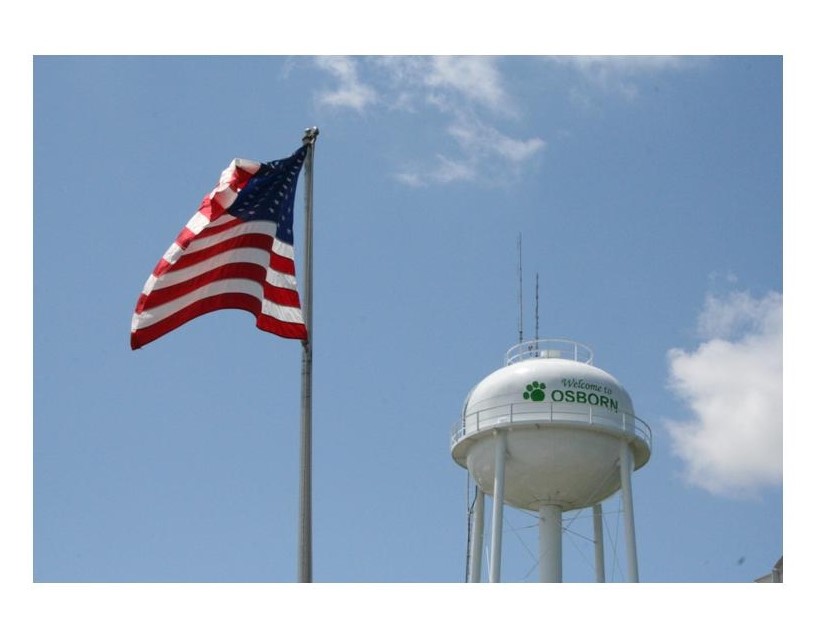 Osborn, MO, population 455, is located in
Northwest Missouri 25 miles east of St. Joseph and 8 miles west of Cameron just south of Highway 36.
Osborn is home of the Wildcats.
---
Notice is hereby given that the City of Osborn is requesting bids on the following:
Scope of work to be completed – The bid will be for a metal roof overlay on the old fire station building. The building is located at 152 W. Georgie St.
Proof of liability insurance needs to accompany bid. Bids will be accepted until 11:00 A.M. on May 8, 2019. All bids must be submitted in a sealed envelope labeled "Metal Roof Overlay Bid" on the outside. Bids must be submitted to City Hall, P.O. Box 67, Osborn, MO 64474 to the attention of the City Clerk. If you have any questions please contact the City Clerk at 816-675-2239. All submitted bids will be opened and recorded publicly at City Hall on May 8, 2019 at 6:30 P.M. The winning bidder will be contacted by the City Clerk. The City of Osborn hereby reserves the right to reject any and all bids, to waive any informalities in the bids received, and to accept the bid or bids that in its judgement will be in the best interest of the City of Osborn.

---
CITY WIDE CLEAN-UP FOR THE CITY OF OSBORN
SATURDAY, MAY 4, 2019
8:00 A.M. – 4:00 P.M.
LOCATION: THE CITY MAINTENANCE BARN
A CITY EMPLOYEE WILL BE PRESENT, AND YOU WILL NEED TO BRING PROOF
OF RESIDENCY. THIS CLEAN–UP IS FOR CITIZENS INSIDE
THE CITY LIMITS OF OSBORN ONLY.
ITEMS NOT ACCEPTED:
*CONSTRUCTION DEBRIS* YARD WASTE *CONCRETE * BATTERIES *CHEMICALS *ANYTHING THAT CONTAINS FREON – (EX. AC UNITS, FREEZERS, REFRIGERATORS)
---
2017 ANNUAL WATER QUALITY REPORT
The current CCR is available at dnr.mo.gov/ccr/MO1010609.pdf
Call 816-675-2239 for a paper copy.
---
City Hall will be CLOSED
Thursday, April 25, 2019.
---
Notice of Board Meeting
Wednesday, May 8, 2019 @ 6:00 P.M. at City Hall.
POSTED April 11, 2019
---
Help Wanted:
The City of Osborn is currently accepting applications for a full time water/wastewater operator.
Requirements: MO DNR C water treatment, DSII distribution, and C Wastewater Operator licenses or be able to obtain within the first twelve months of employment. The applicant must possess a valid MO Class B CDL with airbrake endorsement. High School diploma or equivalent. Pay will commensurate with experience. Employees in this position will work full time with the understanding that water plant operation is seven days a week. Other responsibilities include day-to-day city operations, street maintenance, city maintenance and code enforcement.
Application is available at City Hall-151 W. Georgie, Osborn, MO. Position open until filled. EOE.
---
City Hall Quick Info
Contact:
OFFICE: 816-675-2239
FAX: 816-675-2239
EMAIL: Clerk@cityofosborn.com

Address:
151 W. Georgie St.
P.O. Box 67
Osborn, MO 64474

Hours of Operation:
Mon. 7:00 A.M.-3:30 P.M.
Tues. 7:00 A.M.-3:30 P.M.
Wed. 7:00A.M.-6:00P.M.
Thurs. 7:00 A.M.-3:30 P.M.
CLOSED:
Friday, Saturday & Sunday

ACH Enrollment
Click here for paperwork to enroll
in ACH payments for your
water/sewer payment.
Important Numbers for New Residents
Emergency - 911

Water/Sewer Service
City Hall – 816-675-2239

Trash Service for Residential
City Hall 816-675-2239
Trash Service for Businesses
Defenbaugh- 800-631-3301
R&W Container - 816-632-3590
Veolia - 800-778-7652
Electric Service
Ameren UE – 800-552-7583

Natural Gas Service
Missouri Gas Energy – 800-582-1234

Telephone Service
CenturyLink- 800-201-4099
CenturyLink Internet and Phone Service
---
COUNTY WEBSITES
Clinton County MO: http://clintoncomo.org/government/
Dekalb County MO:
https://www.dekalbcountymo.com/
---
City of Osborn
employment application.
EOE