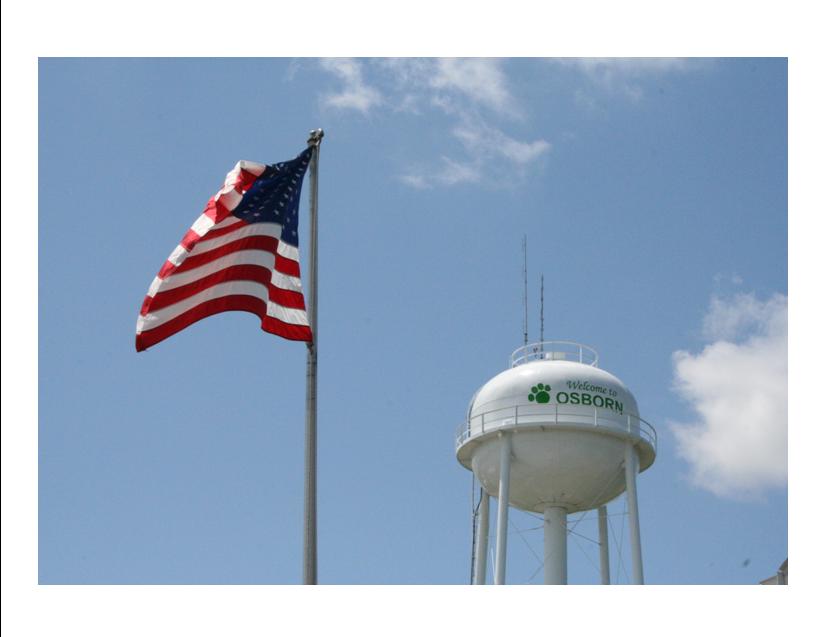 Osborn Welcomes You
Osborn, MO, population 423, is located in Northwest Missouri 25 miles east of St. Joseph and 8 miles west of Cameron just south of Highway 36. Osborn is home of the Wildcats.
---
Notice of Board Meeting
Wednesday, July 8, 2015 at 7:00 P.M.
at City Hall.
POSTED June 16, 2015
---
CITY WIDE CLEAN-UP FOR THE
CITY OF OSBORN
SATURDAY, JUNE 27, 2015
8:00 A.M. – 4:00 P.M.
LOCATION: THE CITY MAINTENANCE BARN.

A CITY EMPLOYEE WILL BE PRESENT THIS YEAR. YOU
WILL NEED TO BRING PROOF OF RESIDENCY. THIS
CLEAN – UP IS FOR CITIZENS INSIDE THE CITY LIMITS
OF OSBORN ONLY.
ITEMS ACCEPTED:
*VARIOUS HOUSEHOLD ITEMS AND WASTE* MATTRESSES * ELECTRONICS
* TOILETS * SINKS * SMALL MOTORS (MUST BE DRAINED OF OIL & GAS)
ITEMS NOT ACCEPTED:
* YARD WASTE * CONCRETE * TIRES * BATTERIES * CHEMICALS * WASTE OIL
* WASTE ANTIFREEZE * ANYTHING THAT CONTAINS FREON – EXAMPLES-
(AC UNITS, FREEZERS, REFRIGERATORS) *CONSTRUCTION DEBRIS!!
---
City Hall Quick Info
Contact: Office: 816-675-2239
FAX: 816-675-2239
Clerk@cityofosborn.com

Address:
151 W. Georgie
P.O. Box 67
Osborn, MO 64474

Hours of Operation:
Monday 7:30 A.M. - 3:00 P.M.
Tuesday 7:30 A.M. - 3:00 P.M.
Wednesday 7:30A.M-6:00P.M.
Thursday 7:30 A.M. - 3:00 P.M.
Friday -CLOSED

Closed: Saturday & Sunday

NOTARY SERVICES NOW OFFERED AT CITY HALL
Important Numbers for
New Residents
Emergency - 911

Water/Sewer Service
City Hall – 816-675-2239

Trash Service for
Residential
City Hall 816-675-2239
Trash Service for
Businesses
Defenbaugh- 800-631-3301
R&W Container - 816-632-3590
Veolia - 800-778-7652
Electric Service
Ameren UE – 800-552-7583

Natural Gas Service
Missouri Gas Energy – 800-582-0000

Telephone Service
CenturyLink- 800-201-4099

COUNTY WEBSITES
Clinton County MO: http://clintoncomo.org/government/
Dekalb County MO: http://dekalbcountymo.org/