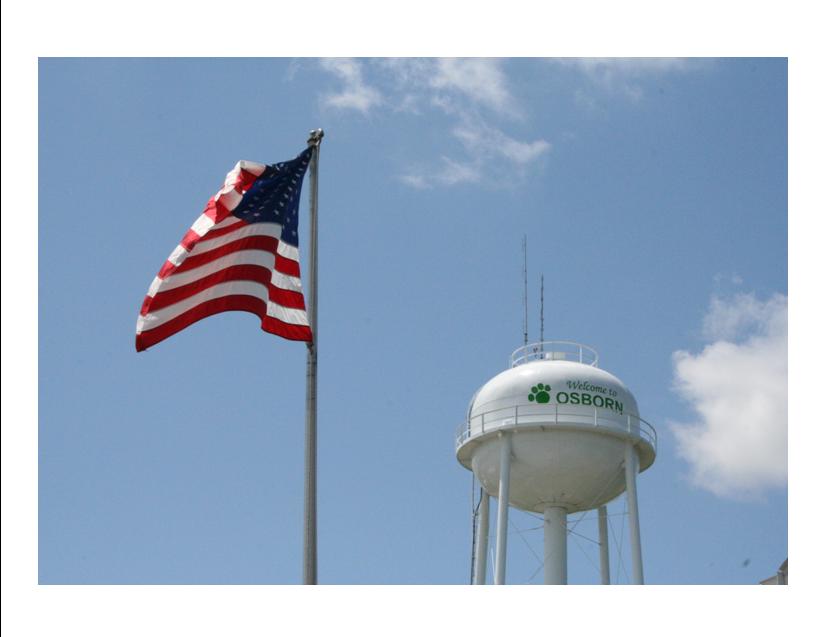 Osborn Welcomes You
Osborn, MO, population 423, is located in Northwest Missouri 25 miles east of St. Joseph and 8 miles west of Cameron just south of Highway 36. Osborn is home of the Wildcats.
---
HELP WANTED:
The City of Osborn is currently accepting applications for a licensed Water/Sewer Operator.

Employment Requirements: MO DNR C water Treatment License
DSII Distribution License
C Wastewater License
Class B CDL w/Airbrake Endorsement
Current water/sewer licenses is preferred but not required. If applicant does not currently have the appropriate license then the applicant must be able to obtain the proper water/sewer licenses within the first 12 months of employment. This position is full time with the understanding that the water plant operation is 7 days a week. The applicant should be familiar with the tools required and should have basic knowledge of electrical and mechanical principles associated with treatment, collection and distribution systems. Other duties include repair and maintenance of all City property, Ordinance Violations enforcement and other duties determined by the City Council. Pay will commensurate with experience. The position will remain open until filled. EOE
Please download application and return to City Hall, or email to clerk@cityofosborn.com
http://www.cityofosborn.com/images/userfiles/File/Employment application.pdf
---
NOTICE OF TAX RATE HEARING
A public hearing will be held on Monday, August 25, 2014 at 6:30 P.M. at which time citizens may be heard on the property tax rates proposed to be set by the City of Osborn, Missouri, a political subdivision.
ASSESSED VALUATION CURRENT TAX YEAR PRIOR TAX YEAR
(BY CATEGORIES) 2014 2013
REAL ESTATE $ 2,640,613 $ 2,367,135
PERSONAL PROPERTY 845,560 946,312
LOCAL ASSESSED 0 0
STATE ASSESSED 0 304,092
TOTAL $ 3,486,173 $ 3,617,539
AMOUNT OF PROPERTY PROPOSED
TAX 2014 (PER $100)
FUND
General Fund $ 0.7766 $ 0.7484
TOTAL $ 0.7766
Jody Barlow, City Clerk
POSTED AUGUST 18, 2014
---
NOTICE OF BOARD MEETING -
Wednesday, September 10, 2014
AT 7:00P.M. AT CITY HALL
POSTED August 18, 2014

---
City Hall Quick Info
Contact: Office: 816-675-2239
FAX: 816-675-2239
Clerk@cityofosborn.com

Address:
151 W. Georgie
P.O. Box 67
Osborn, MO 64474

Hours of Operation:
Monday 7:30 A.M. - 3:00 P.M.
Tuesday 7:30 A.M. - 3:00 P.M.
Wednesday 7:30A.M-6:00P.M.
Thursday 7:30 A.M. - 3:00 P.M.
Friday -CLOSED

Closed: Saturday & Sunday

NOTARY SERVICES NOW OFFERED AT CITY HALL
Important Numbers for
New Residents
Emergency - 911

Water/Sewer Service
City Hall – 816-675-2239

Trash Service for
Residential
City Hall 816-675-2239
Trash Service for
Businesses
Defenbaugh- 800-631-3301
R&W Container - 816-632-3590
Veolia - 800-778-7652
Electric Service
Ameren UE – 800-552-7583

Natural Gas Service
Missouri Gas Energy – 800-582-0000

Telephone Service
CenturyLink- 800-201-4099

COUNTY WEBSITES
Clinton County MO: http://clintoncomo.org/government/
Dekalb County MO: http://dekalbcountymo.org/