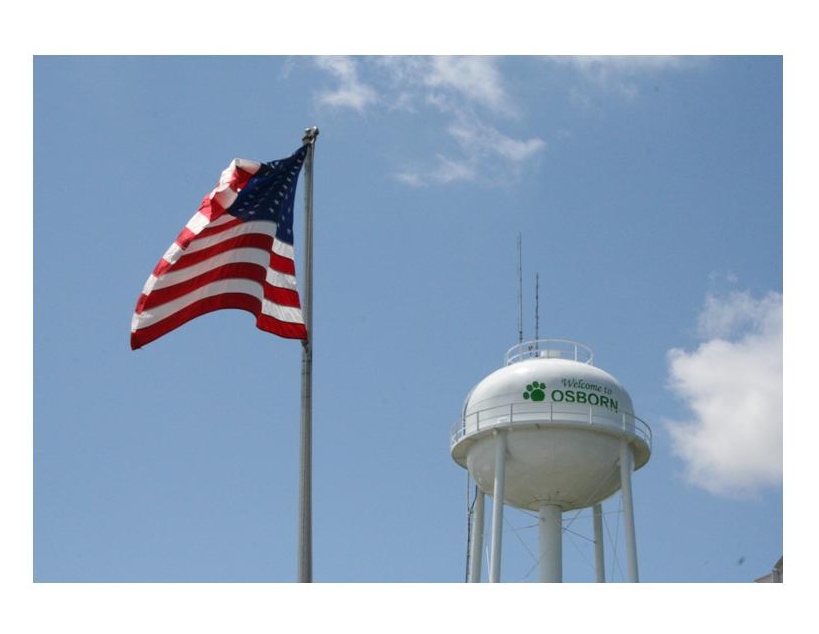 Osborn Welcomes You
Osborn, MO, population 423, is located in Northwest Missouri 25 miles east of St. Joseph and 8 miles west of Cameron just south of Highway 36. Osborn is home of the Wildcats.
---
Notice of Board Meeting
Wednesday, July 13, 2016 @ 7:00 P.M. at City Hall.
POSTED June 20, 2016
---
City Hall will be
CLOSED
Monday, July 4, 2016
Have a happy and safe 4th of July!!!!
POSTED June 27, 2016
---
PART – TIME HELP WANTED:
The City of Osborn is looking for someone to work one day a week for the street department. The qualified applicant must have experience with running a road grader, street repair, ditching and light maintenance work. Possession of class B CDL with air brake endorsement is required. Applications are available at City Hall or www.cityofosborn.com. Please mail or drop your application off at City Hall or email to clerk@cityofosborn.com. EOE.
---
City Hall Quick Info
Contact:
OFFICE: 816-675-2239
FAX: 816-675-2239
EMAIL: Clerk@cityofosborn.com

Address:
151 W. Georgie St.
P.O. Box 67
Osborn, MO 64474

Hours of Operation:
Mon. 7:30 A.M.-3:30 P.M.
Tues. 7:30 A.M.-3:30 P.M.
Wed. 7:30A.M.-6:00P.M.
Thurs. 7:30 A.M.-3:30 P.M.
CLOSED:
Friday, Saturday & Sunday:
NOTARY SERVICES NOW OFFERED AT CITY HALL
Important Numbers for
New Residents
Emergency - 911

Water/Sewer Service
City Hall – 816-675-2239

Trash Service for Residential
City Hall 816-675-2239
Trash Service for Businesses
Defenbaugh- 800-631-3301
R&W Container - 816-632-3590
Veolia - 800-778-7652
Electric Service
Ameren UE – 800-552-7583

Natural Gas Service
Missouri Gas Energy – 800-582-1234

Telephone Service
CenturyLink- 800-201-4099
CenturyLink Internet and Phone Service

COUNTY WEBSITES
Clinton County MO: http://clintoncomo.org/government/
Dekalb County MO: http://dekalbcountymo.org/