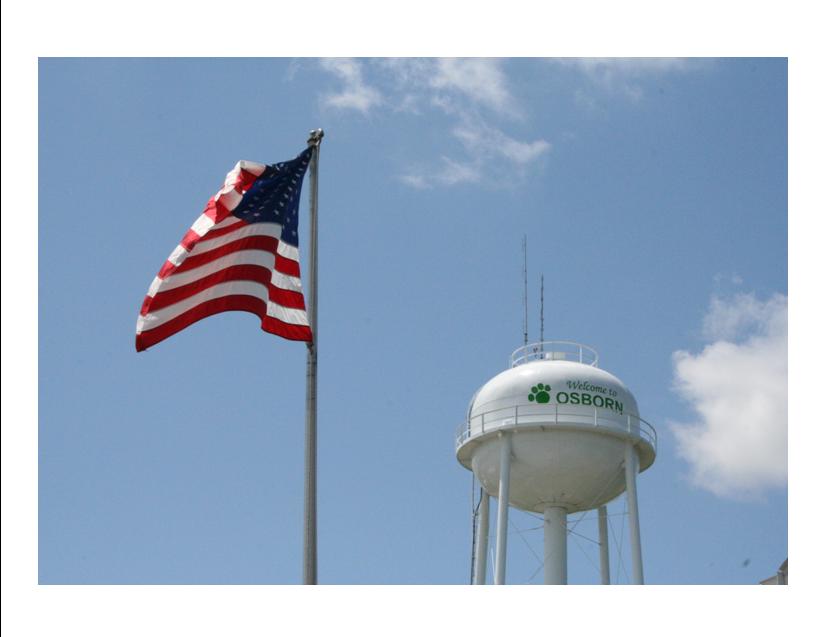 Osborn Welcomes You
Osborn, MO, population 423, is located in Northwest Missouri 25 miles east of St. Joseph and 8 miles west of Cameron just south of Highway 36. Osborn is home of the Wildcats.
---

NOTICE OF BOARD MEETING
Wednesday, February 11, 2015
at 7:00P.M. at City Hall.
POSTED January 15, 2015
---
OFFICES FOR ELECTION
The City of Osborn, Missouri will hold an Election on
Tuesday, the 7th day of April, 2015 to elect the following:
Mayor 2 Year Term
Eastward Alderman 2 Year Term
Westward Alderman 2 Year Term
Filing opens December 16, 2014 at 8:00 A.M.
and closes January 20, 2015 at 5:00 P.M.
File with Jody Barlow, City Clerk at City Hall in Osborn, MO.
(816) 675-2239
---
City Hall Quick Info
Contact: Office: 816-675-2239
FAX: 816-675-2239
Clerk@cityofosborn.com

Address:
151 W. Georgie
P.O. Box 67
Osborn, MO 64474

Hours of Operation:
Monday 7:30 A.M. - 3:00 P.M.
Tuesday 7:30 A.M. - 3:00 P.M.
Wednesday 7:30A.M-6:00P.M.
Thursday 7:30 A.M. - 3:00 P.M.
Friday -CLOSED

Closed: Saturday & Sunday

NOTARY SERVICES NOW OFFERED AT CITY HALL
Important Numbers for
New Residents
Emergency - 911

Water/Sewer Service
City Hall – 816-675-2239

Trash Service for
Residential
City Hall 816-675-2239
Trash Service for
Businesses
Defenbaugh- 800-631-3301
R&W Container - 816-632-3590
Veolia - 800-778-7652
Electric Service
Ameren UE – 800-552-7583

Natural Gas Service
Missouri Gas Energy – 800-582-0000

Telephone Service
CenturyLink- 800-201-4099

COUNTY WEBSITES
Clinton County MO: http://clintoncomo.org/government/
Dekalb County MO: http://dekalbcountymo.org/