IMPORTANT INFORMATION:
TRASH PICKUP WILL BE MOVED TO FRIDAY NOVEMBER 23 DUE TO THANKSGIVING HOLIDAY ON THURSDAY.
PLEASE HELP SPREAD THE WORD. THANK YOU!

Osborn Welcomes You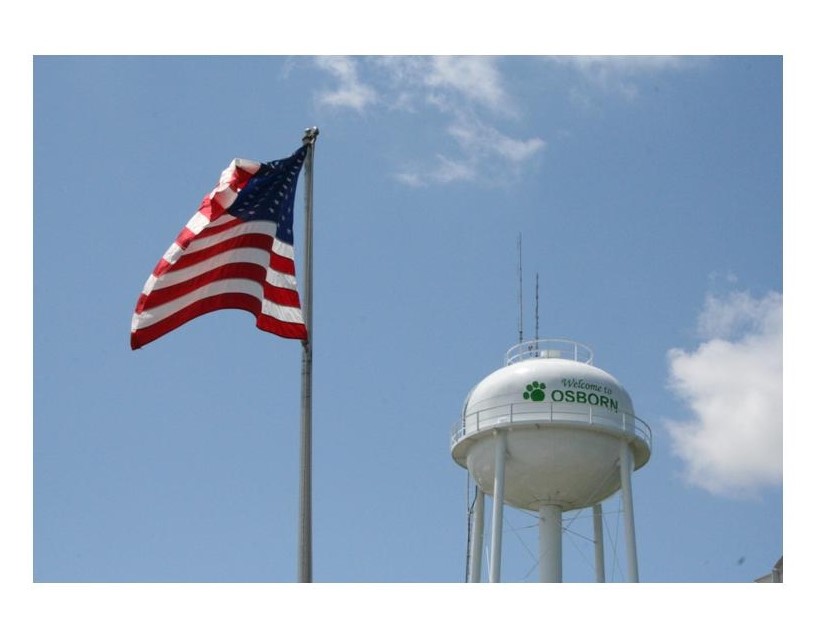 Osborn, MO, population 455, is located in Northwest Missouri 25 miles east of St. Joseph and 8 miles west of Cameron just south of Highway 36. Osborn is home of the Wildcats.
---
2017 ANNUAL WATER QUALITY REPORT
The current CCR is available at dnr.mo.gov/ccr/MO1010609.pdf
Call 816-675-2239 for a paper copy.
---
CITY HALL WILL BE
CLOSED
Thursday, November 22, 2018
The City would like to wish you and your family a safe and
Happy Thanksgiving Holiday!!
POSTED NOVEMBER 15, 2018
---
Notice of Board Meeting
Wednesday, December 12, 2018 @ 6:00 P.M. at City Hall.
POSTED November 15, 2018
---
Attention: City of Osborn Residents
The City of Osborn has adopted Ordinance #2017-02 that will allow you to legally drive All-terrain Vehicles (ATV's), Utility Vehicles and Golf Carts on city streets. This ordinance applies to any person who wants to legally drive their ATV, UTV, and/or Golf Cart on the city streets.
Starting August 1, 2017, the City will issue permits that will be good for one year. You will need to stop by City Hall and fill out an application, provide required documentation and pay the $15.00 fee. Once you are issued a permit, you will need to affix it to your ATV, UTV, and/or Golf Cart.
If you are found to be in violation of this ordinance you will be issued a citation to appear in court and you will be subject to a fine not to exceed $500.00.
If you have any questions please don't hesitate to call me.
Please click Ordinance #2017-02 for the full ordinance.
City Hall Quick Info
Contact:
OFFICE: 816-675-2239
FAX: 816-675-2239
EMAIL: Clerk@cityofosborn.com

Address:
151 W. Georgie St.
P.O. Box 67
Osborn, MO 64474

Hours of Operation:
Mon. 7:00 A.M.-3:30 P.M.
Tues. 7:00 A.M.-3:30 P.M.
Wed. 7:00A.M.-6:00P.M.
Thurs. 7:00 A.M.-3:30 P.M.
CLOSED:
Friday, Saturday & Sunday

ACH Enrollment
Click here for paperwork to enroll
in ACH payments for your
water/sewer payment.
Important Numbers for New Residents
Emergency - 911

Water/Sewer Service
City Hall – 816-675-2239

Trash Service for Residential
City Hall 816-675-2239
Trash Service for Businesses
Defenbaugh- 800-631-3301
R&W Container - 816-632-3590
Veolia - 800-778-7652
Electric Service
Ameren UE – 800-552-7583

Natural Gas Service
Missouri Gas Energy – 800-582-1234

Telephone Service
CenturyLink- 800-201-4099
CenturyLink Internet and Phone Service
---
COUNTY WEBSITES
Clinton County MO: http://clintoncomo.org/government/
Dekalb County MO:
https://www.dekalbcountymo.com/
---
City of Osborn
employment application.
EOE